Blue Earth, Minnesota
Saturday, July 10, 2010
We have been told there is a festival in the high street today and that it is part of the 150 year celebration of Blue Earth. Jason told us that he didn't expect us to do anything over the weekend and that we should take the time to explore the area, which was something we intended doing anyway but it was nice for him to suggest this.

Heat exhaustion, sunburned and jet lagged - Diane couldn't stay awake and went back to bed.
After we both had a nap we wandered into town.
Blue Earth is a very quaint farming town with a strong community focus. Today, there is a small event on Main Street with many of the shops having stalls on the street. There is also an arts and crafts area with face painting for the kids. What I really find strange here is the amount of baseball caps that are worn. From young to old, everyone seems to wear one. I bet there is a cap shop somewhere in this town making a fortune, I just haven't come across yet!

We passed an old house (old by American standards) wearing our city's name- Wakefield House. I can't believe we travelled 4,000 miles and find this in small town Minnesota!

We walked along Main Street that is only about 1/2 a mile long and both stopped dead at a street vendor sign which reads... "Chop on a stick"! To us Brits this seems quite extraordinary. Why put it on a stick if it has a bone to hold??
OH...MY...GOD!....the most succulent juiciest tastiest tender pork chop we have EVER tasted!!!! and BTW....there is no bone and it is soooooo big...and yes, it comes on a stick! Our lives will never be the same again! You guys back home just don't know what you are missing...hahaha!
So...that was lunch!

Back at the house we turned on the TV to find that there were severe tornado and thunderstorm warnings in place across Minnesota. I have always wanted to see a tornado but now faced with the real possibility of experiencing one, I'm not that excited (read scared to death!). The weather plays a vital role in governing the livelihood of the farmers in this town and it is quite humbling to think that their whole years income could be destroyed in a 10 minute storm!

After having some of the most amazing tasty chicken from Jason's own stock we headed up back in to town where we had been told a street party would be held by a local bar. As we walked down the tree lined streets we were conscious that some car drivers seemed to be slowing down to stare at us. Did we stick out so much from the locals or is the community so aware of strange faces in their town? The stares were that of curiosity so it didn't seem to bother either of us.

The party was in a car park at the side of a bar. The road adjoining had been closed off and grill stalls were set out as well as an icecream stand. The atmosphere was quite relaxed as people said hello and smiled at each other on their way to the tables at the entrance. We queued to get a wristband and didn't really take in the procedure of entrance.

We smiled at the young teenage girl and her two friends whose primary role was to issue the bands,
" Have you got I.D?" One of them smiled up at us.
"Err,,,what did you ask for. Sorry?" I asked, totally taken aback.
"Are you wanting to drink alcohol...? another replied.
" Yes we are, I didn't think I looked that young to have to do this! " I said.
" Hey are you guys from England,,,you've got cool accents!" the three girls beamed up at us and we all struck up a quick polite conversation.
We still had to walk back to the house to pick up our passports- a 2 mile round trip!
There is a sign in Walmart that we have read every day that states "ID must be shown on request up to 40 years old" A 2 mile walk for the sake of my vanity was well worth it but I don't think Diane appreciated it.
So...The night wasn't too bad, the band was average and the beer is pretty tastey in this town and the whole bloody town it seems got drunk, including me! And yes, I did regret it!
The towns sign hidden under the trees
Main Street- as busy as it gets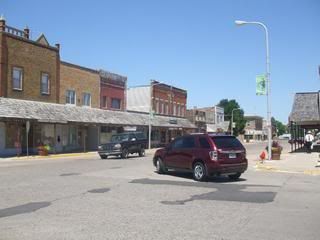 Blue Earth Fire Department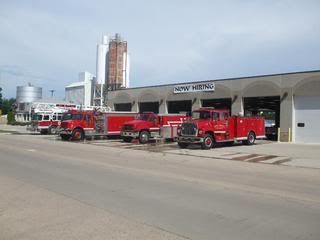 We were suprised to find this as we are from Wakefield in the UK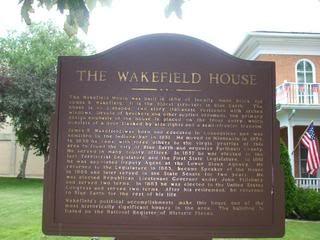 The view from the back of the house