Blue Earth, Minnesota
Friday, July 9, 2010
Finally, we have managed to get a decent amount of sleep. We slept nearly 7 hours but this might have had something to do with the wine and beer we drank with the meal we shared at Jason and Robyn's the night before.

Egg in bread for breakfast...yum yum!

Today I am planning to take more photographs, especially of the fields we will be in and hopefully some of the enormous trucks that fly down the highway on the outskirts of town. I am finding it quite difficult to take the time to stand back and point the camera as we are very busy. But I also think it's because we aren't doing the tourist thing too. It really does feel like we are living here!

Jason's warning about Robyn's bike being jinxed was true! Diane got on the bike and within 5 metres had fallen off, cutting her hand, elbow, knee and leaving her with nasty bruising. We pulled up across the road from the house and by the time I turned around she was on the floor.We still cycled the 2 miles to the office this morning.
We got into the pickup and went out to the fields we would be working in. Jason introduced us to the group of workers that were waiting when we arrived.
'"They asked me if you speak with a cool British accent?" Jason chuckled, as we pulled up.
"No, we're from Yorkshire" was the reply!

The sun was already hot and the buzz of mosquitoes was already audible. Our work party consisted of, Mike and his Vietnamese wife, Ngoc (Andy's sister) who were regular farm hands and three college students that were out on the farm to earn a bit of money during the holidays. Jason pointed out the seed we would be looking for is called Phlox. It is a wild flower seed that blooms with beautiful pink and white flowers (see photo) and not always easy to see at first glance. Mike, always talking in a low husky voice, warned us about a tall plant called Wild Parsnip or Hogweed.
"Don't go near it" he said as he pointed to a plant that looked very familiar to one in the UK.
"That leaves you with a nasty rash."
Everyone reiterated to keep away from it.

Walking into the fields I found the whole area to be alive with wildlife. Birds, butterflies, grasshopper, dragon flies, bees, many many frogs and of course, mosquitoes. Other animals we couldn't quite see slithered through the grass, making us both stop in our tracks now and again to check if we could see anything but what ever they were, were always a metre in front and hidden.

With bucket and clippers in hand and covered in anti-bug juice we began searching for our precious seeds. The majority of plants and grass we walked through were about 3 feet tall, the seed we were searching for only grows 6 - 12 inches. It is like searching for a needle in a haystack to the untrained eye.

The Minnesota sun is quite relentless at this time of year. It beat down heavily on our backs and heads as we foraged for our crop. Instant tan! The downside is that when you are bent over you can hear the mosquitoes even more...when the buzzing stops, you know you are already on the menu!

At around 12.00 we headed back to the office for lunch and the air conditioned office was a welcome retreat from the heat. Diane used the Internet to check her email while I played about with the farm dogs, Duchess and Pete.

We headed out to the fields again after lunch. The sun was full strength and the humidity had increased. Everyone was working a little slowly due to the uncomfortable heat and the mosquitoes were building up for their evening raid. After a couple of hours we all decided to get back to the office to save ourselves from becoming ill from the horrendous temperatures. Jason was fixing the automatic fertilizer feeder unit again on the back of the tractor. A cable on one of the feeder arms had snapped and he wasn't too pleased as he had just bought it.

The tractor has a computer on the dash board which controls the amount of fertilizer pumped and mixed with water to spray over the fields It took some calibrating but it got there in the end. There is quite a lot of technology used in farming in America, even GPS is used to keep tractors and harvesters driving in straight lines to minimize waste per square metre. A small amount a waste can become a huge loss on some of the farms that boast over 1000 acres of crops!

Jason told us to get off home as we must have looked very burned and exhausted.He told us to try and get out to the fair that was in town that evening.We were both so exhausted we couldn't get out of the house. Diane fell asleep on the sofa and I ended up watching the largest firework display I've ever seen whilst sitting on the top of the staircase in the cool air conditioning. our body clocks were finally adjusting- tonight, we were in bed for 11pm.

The sun definitely caught us today. Diane's back is as burned and the backs of my arms feel pretty severe too.

We are now officially Red Necks!
Sun flowers chasing the sunlight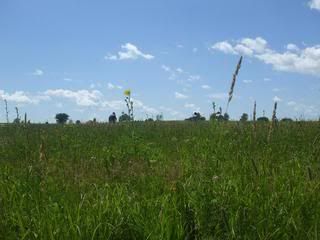 Diane searching for seeds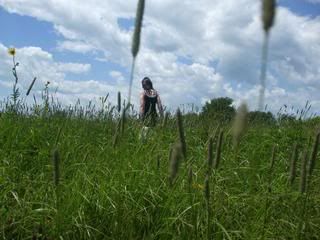 Giant Hogweed- Leaves a very nasty rash!
In the fore-ground; an unspoilt prairie. Beyond the vans are corn fields as far as the eye can see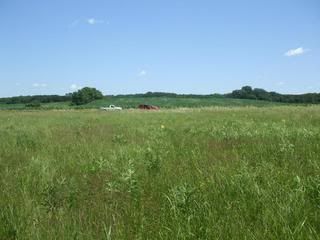 There aren't many bends in these dirt roads!