Manchester Airport, England, United Kingdom
Tuesday, July 6, 2010
We got packed and ready the night before, ready for a 5am start. We had an enthusiastic two mile hike to Fitzwilliam train station with fully loaded backpacks to catch the train to Manchester airport. This seems a less hassle than driving and leaving the car at the airport.

At Fitzwilliam station, one of the locals was smoking 'something herbal'- I found this quite alarming, considering that he was dressed in overalls, covered in plaster and was obviously on his way work. I bet his handy work looks lovely!

We changed trains at Leeds station which gave us a welcomed coffee break and of course, Diane had to get the largest- the first of many!

From leaving our front door to stepping off the train at the airport took two hours. Yes, it is much better than driving and much cheaper too. We will have to get used to public transport if we are to use it as our only means of travel in the future.

At the airport we went to the 'as much coffee as you can drink' café. We only paid for one cup and shared turns in drinking- money saver! Diane drank refill after refill and after only two drinks my feet became twitchy and I couldn't't keep still- coffee does bad things!!!

The flight was quite uneventful and due to my coffee fueled state of mind I couldn't get to the end of any of the forty or so films that were on offer…Diane on the other hand can concentrate really well on an overdose of caffeine and played a game on the screen for 6 hours.

Newark Airport, New Jersey- What a shit-tip! If there were awards for the grimiest, uncultured, uninviting airport, this place would win hands down.

Stepping off the plane, the heat nearly knocked us flat out. Forty-plus degrees Celsius! New York and New Jersey were in the middle of a heat wave.
We had four and a half hours to kill before catching the connecting flight to Minneapolis; this was going to be a very boring wait. Nothing to do and nothing to see… even the New York skyline was shrouded in a heated haze of orange smog. I suppose it's all part of the adventure but it would have been nice to have seen it on a clear day.

Twenty four hours after leaving Hemsworth we finally arrived at Saint Paul Airport, Minneapolis. Minneapolis is 6 hours behind UK time so we adjusted our watches and then went to collect our backpacks. We wandered up and down a little before we met up with our hosts Jason and Robyn Olson. We all said hello and after the introductions embarked on a two hour car journey to Blue Earth, Faribault County. Robyn commented on how light we travel (1 backpack each) and this made us both laugh as we have never travelled with so much before!

As it was dark, we couldn't see which direction we were going in or what the local landscape looked like so it still felt a little bit like being on the plane although the huge car (or van, as they are called in America) was very comfortable and I could feel my eye lids straining to keep open as we all shared snippets about our very different lives. Jason ran the farm with his dad, Bill and Robyn had just been offered a new teaching post at a local school in Blue Earth. To say we had never spoken to these people before, we all got on quite well.

As we pulled up to the house (that was to become our home) the lights from the car shone across the white painted wood paneled walls- very different!
We went in and Jason started up the air conditioning- We were so happy about this as the humidity was quite stifling. He told us to get some rest and in the morning go over to the Napa tool shop behind the house and ask someone to phone him or his dad to come and pick us up.

The house looked like it had been stood for a while and had an old musty damp smell. We found clean sheets on the bed and had a quick look around before collapsing into bed with exhaustion. It is so welcoming to be able to stretch out and lay down after a long plane journey. Even as tired as we were, we couldn't stop talking about what we were going to do during our stay and eventually drifted off to sleep.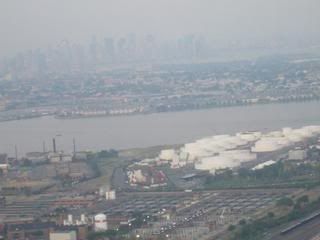 Sunset over Minnesota at 30,000 feet!
All Rights Reserved © 2009 - 2010
Two mile hike to the train station- easy peasy!
Burnt-out 'n' bored in Newark Airport, New Jersey