Fairmont, Minnesota
Sunday, July 11, 2010
Well, I hadn't intended to write up my scribblings as I am so hung over at the moment, I cant see straight enough to write. Alcohol was never part of our budget and judging by how ill I feel I am glad we won't be doing again!

For breakfast I had eggs in bread, coffee and cigarettes- Yep, I walked round the town last night until I found a place that was open that sold cigarettes. I really don't want to be addicted to nicotine again!

Yet again the jet lag has hit us and we slept away most of the afternoon. Bill came round to the house and woke us up to invite us for a meal and a trip to Fairmont about 18 miles out of Blue Earth.
Mexican food made by real Mexicans, not Englishmen in Sombreros All I can remember about the meal was beans, tacos, chicken, more beans and salad, but it was very tasty. After the meal Bill and Sharon took us to meet his brother and family at a cabin on a lake. The only distinguishing features between a house and a cabin here seem to be; cabins are painted brown and houses are painted white! They look like they are constructed with the same materials and in the same style. They really know how to mix the life v work balance here with the emphasis on relaxation and making as much money with as little effort as possible- and why not!

To the back of the cabin was a small campfire area surrounded by over-hanging trees and from there led a flight of zig-zag steps down a steep banking onto their private jetty on the lake. Moored against the jetty were jet-skis and a sizeable speed boat. Bill's nephew (about 12 years old) was showing us his 1960s speed boat he has refurbished and gave us a demonstration of his boating skills by zipping about the lake before securing it into a dry dock.
The water in the lake was incredibly warm and calm, much warmer than any Mediterranean water I have been in. On the way back home Bill decided to take a detour to show us some of the "sights" of Fairmont.
We went to an open air building museum that had the original train station, schoolhouse, barns and houses that have been preserved for tourists to visit. This isn't really "our thing" seeing old buildings especially when they aren't that old in comparison to some buildings we aree used to in the UK. I think Bill picked up on this so it was a speed through tour!

One of the things I really wanted to see out in the prairies was Prairie Dogs but unfortunately they aren't that common in this part of Minnesota- must have something to do with the intensive corn and soya farming that covers the whole landscape in this county. We did however get to see Prairie Dogs in an outside pen- not quite the same but at least I got to see them.

Today was very enjoyable. I might have said this somewhere else; this trip is about experiencing a different culture, meeting interesting people, and not being touristy. I don't think that there is any other way you can visit another country after doing it the way we are. We will never pay for a package holiday again
Bill over seeing mooring the boat in the dry dock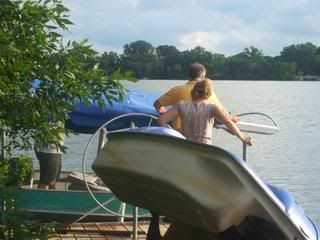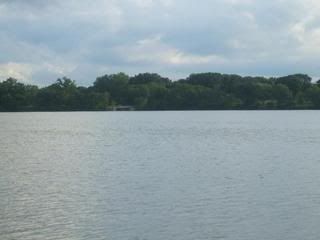 Sharon and Diane enjoying the evening sun